Trillion-Dollar Mining Industry Turning to Remote Underground Projects
Premium News Article
Attachment Included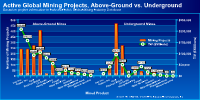 SUGAR LAND--March 13, 2012--Researched by Industrial Info Resources (Sugar Land, Texas)--High commodity prices and strong demand for mined products are driving mine development around the world. Mining companies are spending more money on exploration activities, but are finding fewer world-scale ore reserves. As a result, mining companies are developing lower-grade ore resources into larger mining projects to take advantage of economy of scale. For a full listing of global mining projects contact IIR's Member Center to sign up for the
Global Mining Database
by calling 1-800-762-3361.
Read the Complete Article >>>
Details on this Article:
Industry Segment: Metals & Minerals
Word Count: 462 Words
Attachment: IIR Chart - Active Mining Projects, Above-Ground vs. Underground Mines
Login or Register now for instant access!
Related Articles
Industrial Info to Present Industrial Market Outlook in Chicago on May 11
Alcoa Maintains Quarterly Capex Despite Drop in Profits

China's Crude Steel Output Drops 5.7% in First 2 Months of 2016
Tata Sells European Long Products Operations
CSX Railway Reports 20% Drop in First-Quarter Earnings, Expects Challenges ...
This article is available for Premium Members only.
Subscribe Now! All Fields are Required...
Upgrade your Premium News Subscription to include all archived articles for only $160. Contact Member Services: 800-762-3361
All Members Receive the Following Free Resources:
North American Project & Gap Spending
North American Plant Analysis by Industry & Market Region
Market Maps & Stats - Capital & Maintenance Activity
Current & Historic Economic Indicators
30/60/90 Day Weather Forecast