Trillion-Dollar Mining Industry Turning to Remote Underground Projects
Premium News Article
Attachment Included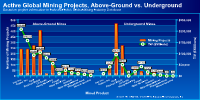 SUGAR LAND--March 13, 2012--Researched by Industrial Info Resources (Sugar Land, Texas)--High commodity prices and strong demand for mined products are driving mine development around the world. Mining companies are spending more money on exploration activities, but are finding fewer world-scale ore reserves. As a result, mining companies are developing lower-grade ore resources into larger mining projects to take advantage of economy of scale. For a full listing of global mining projects contact IIR's Member Center to sign up for the
Global Mining Database
by calling 1-800-762-3361.
Read the Complete Article >>>
Details on this Article:
Industry Segment: Metals & Minerals
Word Count: 462 Words
Attachment: IIR Chart - Active Mining Projects, Above-Ground vs. Underground Mines
Login or Register now for instant access!
Related Articles

Global Cement Manufacturing Sector Developing $146 Billion in Projects
Industrial Info Releases North America Heavy Lifting & Material Handling Eq...
U.S. Steel Producers Show Improved Results
Coal Crisis Threatens to Consume Murray Energy

Mining Investments in China for First Seven Months of 2016 Drop 22.9% from ...
This article is available for Premium Members only.
Subscribe Now! All Fields are Required...
Upgrade your Premium News Subscription to include all archived articles for only $160. Contact Member Services: 800-762-3361
All Members Receive the Following Free Resources:
North American Project & Gap Spending
North American Plant Analysis by Industry & Market Region
Market Maps & Stats - Capital & Maintenance Activity
Current & Historic Economic Indicators
30/60/90 Day Weather Forecast