Upcoming Events...

International Oil & Gas Industry Exhibition & Conference -
Marina Bay Sands, Singapore
December 2 - 5, 2014
View Details >>

Ohio Oil Gas Association's
Oilfield Expo -
Cleveland, OH
December 3 - 4, 2014
View Details >>

Power-Gen International -
Orlando, FL
December 9 - 11, 2014
View Details >>




---
Industrial Info Resources Surpasses 80,000 Active Industrial Projects in Global Project Database
Industrial Info Resources has passed another major milestone in our coverage of industrial spending throughout the world.
Continue Reading >>>
---
Value of Project Starts Increases Across Most U.S. Regions in 2014
As of mid-November, the value of U.S. construction starts tracked by Industrial Info for the first three quarters of the year provides a very positive indication of U.S. industrial construction spending.
Continue Reading >>>
---
October Spending Indices
Industrial Info has tracked projects with a combined total investment value of $207.18 billion kick off in the U.S., Canada and Mexico from January through September of this year, representing an increase of 29.7% in terms of project value from the same period last year.
Continue Reading >>>
---
Life-Science New Build Report: 200 North American Sites in Planning Represent Potential $15 Billion Investment
Reported by Annette Kreuger, Industrial Info Resources (Sugar Land, Texas)--As illustrated by the torrent of negative political campaigning raging across the country, it has become difficult, if not near impossible to find common ground among politicians at any level.
Continue Reading >>>
---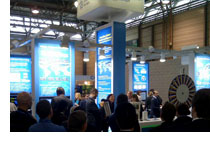 Upcoming Tradeshows & Events
Click below to learn more about upcoming tradeshows where Industrial Info will be exhibiting and events that we will be hosting.
View Upcoming Events >>>
---
New Products & Resources
Industrial Info has a broad and deep set of resources to support your business-development activities. From maps and databases to executive briefings and customized analytic tools, our resources can help you build a bigger book of business. Start by calling our Member Center today at 1-800-762-3361, or 713-783-5147, or visiting our
Online Store
.
View New Products >>>