Upcoming Events...

American Electric Power Columbus, OH
August 10 - 13, 2015
View Details >>

Power-Gen Natural Gas
Columbus, OH
August 18 - 20, 2015
View Details >>

North American Mining Expo
Sudbury, Ontario
August 19 - 20, 2015
View Details >>




---
Planned Industrial Manufacturing in U.S. and Canada Up 40% from Last Year
According to Industrial Info's North American Project Spending Index, the value of projects in the Industrial Manufacturing Industry that are planned to kick off this year in the U.S. and Canada is up 39.7% from the same period last year. Data through the end of June 2015 show that the value of the projects planned to kick off in 2015 was $50.6 billion, compared to $36.2 billion planned to kick off in 2014 at the same time of year.
Some of the biggest year-over-year gains have been seen in the eastern U.S., in the Southeast and Mid-Atlantic market regions. Together, these regions account for more than $17 billion in planned Industrial Manufacturing construction starts during the 2015 calendar year. Some of the highest-value projects in these market regions are commuter rail projects in metropolitan areas.
Continue Reading >>>
---
Pharma-Biotech Third-Quarter 2015 Update: $6.4 Billion of Investments in Project Starts
Reported by Annette Kreuger, Vice President of Pharmaceutical-Biotech Industry Research--Within the next three months, the Pharmaceutical-Biotech Industry is expected to launch nearly $6.4 billion worth of North American capital and maintenance (MRO) projects. An analysis by Industrial Info's Pharmaceutical Tracker - Online Database of active capital and MRO projects shows that a 68% jump in spending--from third-quarter 2014's $3.8 billion.
Continue Reading >>>
---
Natural Gas-Fired Power, LNG Projects Give Boost to Construction Starts
According to Industrial Info's North American Construction Starts Index, industrial projects valued at approximately $148.3 billion began construction in the U.S., Canada and Mexico from January through June of this year. This compares to about $142.2 billion of projects kicking off in North America during the same period of 2014.
Continue Reading >>>
---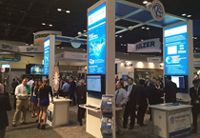 Upcoming Tradeshows & Events
Click below to learn more about upcoming tradeshows where Industrial Info will be exhibiting and events that we will be hosting.
View Upcoming Events >>>
---
New Products & Resources
Gulf Coast Industrial Spending Activities Wall Map- 2015 Edition
Industrial Info is tracking more than $365 billion in industrial projects that are under way or planned to begin in the future along the U.S. Gulf Coast.
View New Products >>>