Industry Segment: Petroleum Refining | Word Count: 420 Words
Attachment: IIR Chart - Planned 2Q12 Refining Industry Project Starts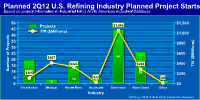 SUGAR LAND--March 5, 2012--Researched by Industrial Info Resources (Sugar Land, Texas)--As Motiva Enterprises LLC (Houston, Texas) wraps up its massive expansion project at its refinery in Port Arthur, Texas, U.S. refiners are on track to kick off more than $2 billion in projects from April through June of this year. While some of these projects could be pushed out to future dates or placed on hold for various permitting or economic reasons, the numbers show that despite recent news of closures and unplanned outages at refineries, the U.S. Refining Industry remains relatively strong, with lots of capital and maintenance projects in the pipeline.
Login or Register for Instant Access
This Premium Article can be purchased individually or as part of a subscription