IIR Energy's new MISO Tableau Dashboard is out. Now you can visualize, in clear and concise fashion, IIR's key fundamental power operations data for the MISO market in an easy-to-use, powerful analytical Tableau interface.

IIR's MISO Dashboard allows you to see and analyze the current and future available capacity picture, with the ability to drill down to the unit level. Understand market dynamics better, and position yourself in these volatile times with more confidence using this new IIR dashboard.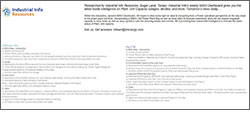 View Overview Sample
Research, Day of Pages enabling detailed dynamic data mining & research to specific MISO Plants… their current event status & comments
IIR Energy is excited to further empower your insights into power outages...
If you have any questions regarding the energy market, please contact
iirteam@iirenergy.com or call (713)-980-1779