PetChem Live
IIR Energy's PetChem Live provides comprehensive, dynamic, accurate, and easy-to-use market intelligence on the Global Petrochemical Industrial. Giving market participants a sound, fundamental viewpoint on the supply and logistics of this flourishing market. Clients will have access to hands-on knowledge of plant and unit operations, turnarounds, new capacity, and unplanned events, allowing users to have a clear understanding of market conditions from the ground level.
PetChem Live supplies Chemical Marketers & Traders with the fundamental market knowledge needed for success in the Petrochemical Commodities Supply chain. Delivering continuously updated & current information services on supply and production of the chemical sector. Gaining Instant knowledge of turnarounds and new capacity additions to predict price direction.
PetChem Live's comprehensive coverage of the entire global Petrochemical Sector includes over 5,000 operational, planned, engineered and under construction units profiles. With coverage of all key sectors such as Olefins to include ethylene, propylene, butadiene, and Aromatics such as benzene, toluene, and xylenes. In addition IIR also covers other chemicals derived from petroleum, natural gas, and downstream derivatives including plastics, resins, and monomers.
Installed Base
PetChem Live utilizes IIR Energy's unique research methodology to provide comprehensive coverage of chemical unit operating rates including planned and unplanned offline event monitoring, new capacity construction statuses, and much more for over 70 individual chemical commodities in more than 5,000 operating units globally.
Key Attributes:
Plant Owner & Parent Company
Plant Name
Unit Name & Status
Unit Types
Installed Unit Capacity
Physical Addresses, Lat/Long, Market Region, GIS Map
SIC & SIC Product Descriptions
Plant Startup Date
Turnarounds
Turnarounds coverage provides real-time information pertaining to the operational status of the Global Petrochemical plants and units. Accurate, current, and timely key details on all current, planned and unplanned turnarounds allows users to predict and react to market interruptions.
Instant messaging, email alerts, push/pull FTP reporting, data scrapes and feeds, and other features allow users to easily embrace a wealth of information and monetize a best-in-class market view.
Key Attributes:
Planned and unplanned events
Outage cause with comments
Start and stop dates
Capacity offline
Derate Percentage (when available)
Plant, unit and product details
Weekly Ethylene Outlook
Weekly Ethylene Outlook Sample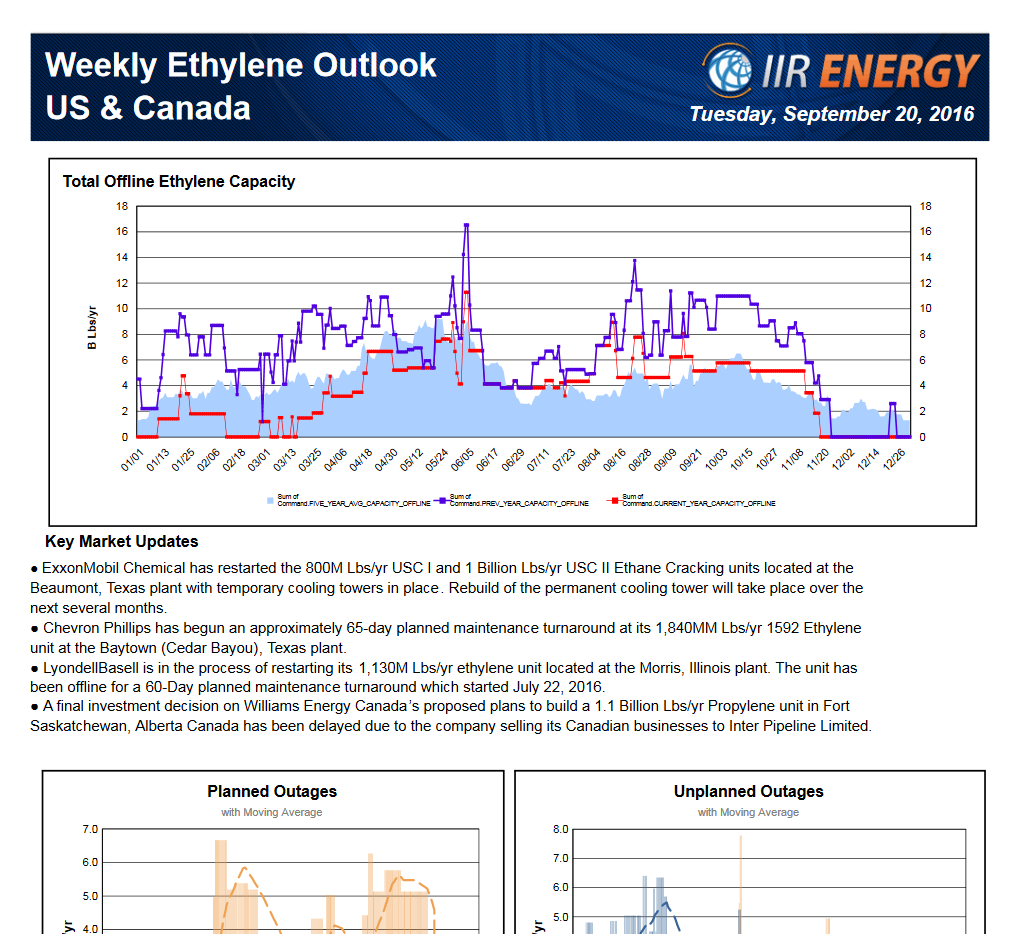 Comprehensive view of IIR Energy's Global Ethylene Market Intelligence for five different global market regions. The Weekly Ethylene Outlooks's provide key market updates, a list of ongoing and future offline events, and future capacity by region.
Available Global Market Regions:
US & Canada
Europe & Asia
South Asia & Middle East
Latin America
East Asia
IIR News
Included with your PetChem Live subscription, IIR provides daily industry news on the global industrial marketplace, with topics that focus on project expenditures, plant and corporate trends, and contract awards. Our news is by our research experts in the U.S., Asia, South America, Africa, Europe and the Middle East, and is exclusive to Industrial Info.
Hotline
Need up-to-date details on breaking energy news? Are you wondering when Mont Belvieu will be back online and need first hand knowledge close to the source?
Message us on the IIR Energy hotline for accurate, fast, live interaction with our frontline research staff to uncover the breaking news and current details on supply disruption events, covering all unplanned & forced outages from weather events, mechanical failure, catastrophes and all other circumstances.
Connect via web interface, email, or call us for more information
Telephone
: +1 713 980 1779
Email
:
iirteam@iirenergy.com