Online Industrial Outlooks
Major Project Analysis and Trends for the North American and International Industrial Markets
Instant Online Access - $595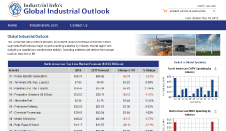 IIR's global industrial outlook provides easily navigated spending projections for 12 industrial market sectors.
Both North American and International industrial sectors are included in the Outlook, with special breakouts for the BRIC, MENA, Middle East and Asia-Pacific regions.
Quarterly updated project spending statistics are broken down by industry, market region and budget type (capital or maintenance). Detailed assessments from Industrial Info's industry experts help explain how the data and information reflect broader industrial trends.