Units and Equipment
Information About Major Units and Equipment On-Site
Units and Equipment
PECWeb's Equipment and Unit search tools allows users to seek details on boilers, turbines, compressors, pumps, generators as well as mining, metal processing, refining, oil & gas, pulp & paper and chemical industry units and on-site equipment.
Coverage spans all industries and is available for planned, operational and decommissioned units and equipment. All search results include the plant profiles available in our global plant coverage.
Request More Info
---
Boiler search criteria includes:
Boiler manufacturer
Boiler type (fluidized bed, chemical recovery, HRSG, etc.)
Boiler Information (Model, Firing Types, Steam Drum Parameters, Environmental Controls where available)
Unit name
Unit capacity (MW)
Capacity/steam output (lbs/hour or tons/hour)
Boiler pressure (psig or bar)
Minimum/maximum temperatures (Fahrenheit or Celsius)
Power usage (baseload, intermediate, peak)
Primary/secondary fuel types and Specific Biomass Fuels identified in the Boiler info field where applicable
Status (operational, planned, decommissioned)
Startup/shutdown dates
Estimated value and more
---
Drive Search:
Turbines, Engines and Motors driving Compressors, Pumps and Generators
Search criteria includes:
Drive types (Engines, Motors, Aero or Heavy Frame Gas Turbines, Wind, or Hydro etc.)
Drive manufacturer
Drive name
Drive information (Model, Inlet Cooling, Environmental Controls, Control Systems info where available)
Driven types (Compressor, Pump, Generators)
Driven manufacturer
Driven equipment information (Model, mva, kV, rpm, Cooling info where available)
Search by Capacity in Horsepower or Megawatt
Fuel type
Startup/shutdown dates
Status (operational, planned, decommissioned)
Utility/non-utility
---
Industrial Info regularly verifies and updates each Plant Profile, providing the most accurate, up-to-date information available. If additional information or details are required, the "Ask Us" feature allows users to directly contact our researchers, who will respond to your request within 24 to 48 hours.
Contact us today for more information on the platform!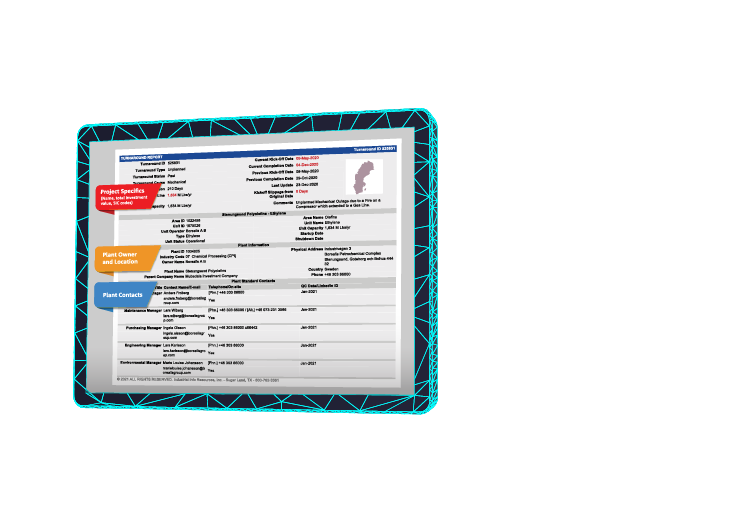 (Click image for a sample report)