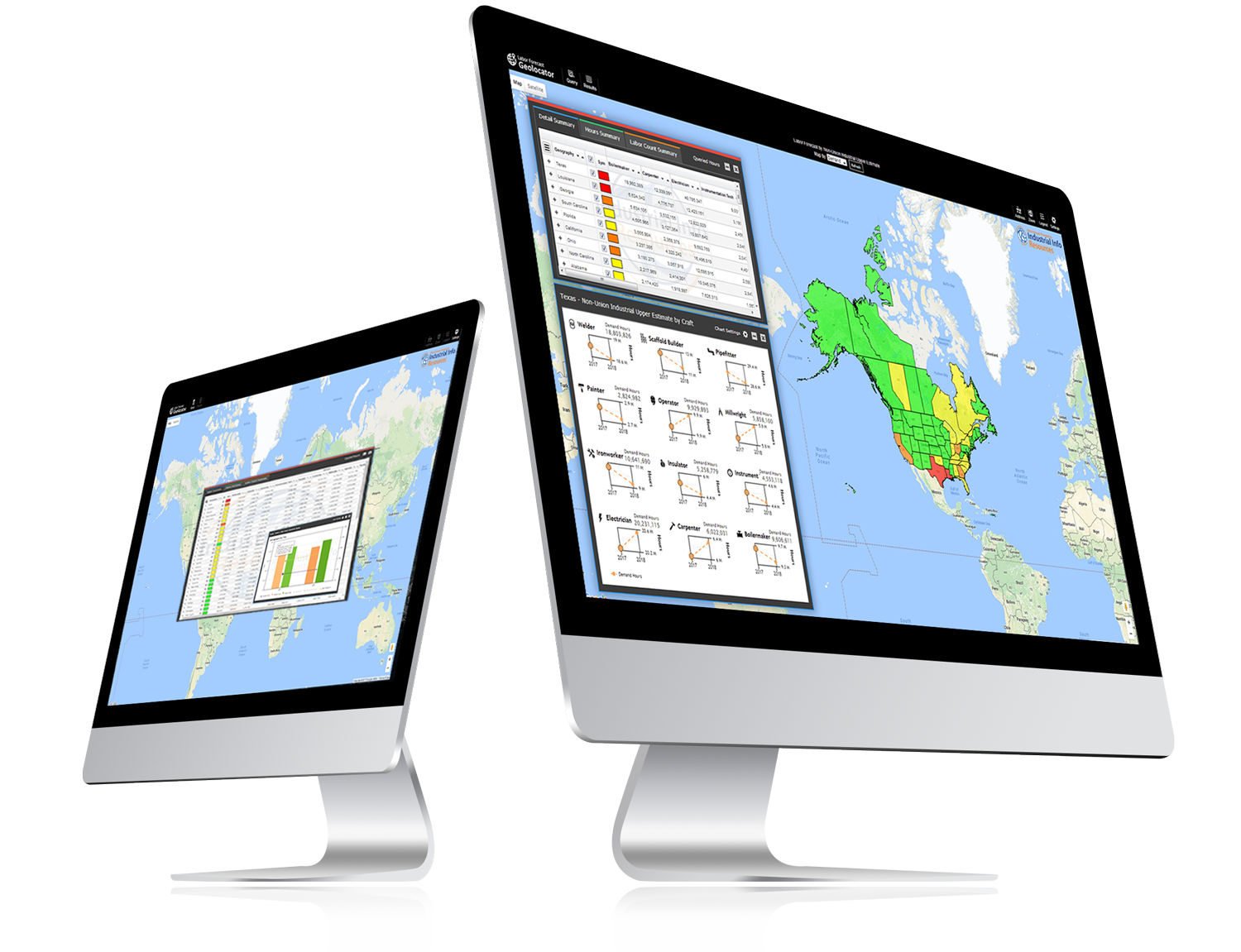 Request More Info
Analyze Labor Supply & Demand Dynamics, Wage Rates, Estimated Travelers, Per Diems & Utilization Rates
As part of our forecasting solutions, Industrial Info provides a unique view of the historical, current and future supply, demand and wage rate forecasts, estimated travelers, per diems and utilization rates for skilled craft labor. Sizing future supply and demand across multiple crafts by labor hours, headcount and cost of labor enables our subscribers to support their labor planning, deployment and strategies and their longer-term training and recruitment initiatives, so that they are completely aligned to the current and future needs of the market.
Our labor market intelligence is derived from the forward-looking and historical project information available in our online database platform that includes more than 95,000 capital projects as well as maintenance turnarounds, outages and shutdowns within the United States and Canada. Our modeling captures total spending for the market, using historical and future project information, leading economic indicators, as well as commodity and labor pricing forecasts to establish our estimates for each year.
Labor Analytics Solution
IIR's Labor Analytics solution provides access to a geospatial application and quarterly assessment reports for different crafts and areas.
Within our GeoLabor Analytics geospatial tool, users can visualize our labor forecast by craft and geography via heat maps, bar graphs, summarization tables, density pulse and cluster visualizations, as well as download data into Excel formats.
Our quarterly assessment report is produced by metropolitan region to help our subscribers align the data found within our GeoLabor Analytics tool. Additionally, IIR's research staff can meet with your team to review our findings and answer questions during a quarterly fulfillment presentation.
Crafts Currently Available
Boilermaker
Carpenter
Electrician
Instrumentation Tech
Insulator
Iron Worker
Millwright
Operator
Painter
Plumber + Pipefitter
Scaffold Builder
Welder
Regional Labor Analysis
Industrial Info's labor analytics solution also includes regional labor analysis for multiple hotspots around North America. These regions include analysis down to the metropolitan areas and additional datasets such as union and non-union labor supply, demand and wage rate expectations.
Gulf Coast
Get detailed information for nine metropolitan areas between Brownsville, Texas, and Pascagoula, Mississippi, including historical and forecast labor hours.
Great Lakes
Supply, demand and wage statistics for 20 metropolitan areas in Illinois, Indiana, Kentucky, Michigan, Ohio and Wisconsin, with quarterly updates, showing changes as projects are introduced, placed on hold or canceled, and scopes and schedules change.
Oklahoma
With some of the nation's most promising shale plays, drilling activity in Oklahoma remains strong. In addition, windfarm construction is adding billions of dollars of project activity to the state. Stay on top of the state's craft labor supply, demand and wage rates with Industrial Info's quarterly-updated Oklahoma Labor Market Analysis.
Alabama
Ranging from the busy Port of Mobile to the Tennessee border, this analysis of Alabama's labor supply, demand and wage rates can be purchased separately or bundled with Industrial Info's Gulf Coast Labor Market Analysis.
Upper Midwest/Rockies
Home to a wide array of oil & gas, chemicals and power generation projects, Industrial Info provides labor supply, demand and wage rate analysis for Minnesota, North Dakota, Montana and Wyoming.
Ontario
Power projects, pipelines, mining and manufacturing are significant players in Ontario's industrial market. Get a better grasp of how these and other industries are affecting the province's labor market with IIR's Ontario Labor Market Analysis.
Pennsylvania
The prolific gas production from the Marcellus Shale has led to many large-scale, high-dollar projects being planned for Pennsylvania, including several natural gas-fired power plants, chemicals production, pipelines and gas-to-liquids plants. Understand how the timing of these projects affects craft labor supply, demand and wages with Industrial Info's Pennsylvania Labor Market Analysis.
Contact us to customize your solution by specific craft(s) or geography/metropolitan area. If your area of interest is not listed, Industrial Info can create customized labor supply, demand and wage reports for the regions and crafts of your choice.