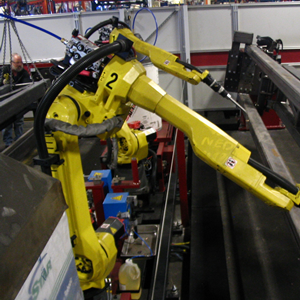 Encompassing a broad array of industry segments from the manufacturing of semiconductors to the construction of ports and commuter rail lines, Industrial Info's Industrial Manufacturing Industry Platform covers a very diverse range of projects and plants in North America and selected global regions.
Industrial Info provides the most accurate, up-to-date plant and project information for the Industrial Manufacturing Industry, which contains details on 5,200 active projects with a combined value of $609.90 billion and 15,800 facilities and infrastructure locations, providing continually verified intelligence about project milestones, equipment needs, key contacts and much more. In addition, our platform includes information on thousands of canceled or on-hold projects and inactive or decommissioned facilities.
Along with plant and project information, contact details for more than 12,500 key decision-makers for projects and 107,500 key plant contacts are consistently verified and updated, providing you with direct access to the people you need to find!
The automotive sector includes vehicle assembly plants that produce cars, light trucks, buses and commercial heavy-duty trucks, as well as tier suppliers that produce automotive parts.
The heavy manufacturing sector includes facilities that manufacture heavy construction equipment, farm equipment, rail cars & engines, airplanes & airplane parts, shipbuilding supplies, turbines & generators, lawn & garden equipment, compressors, pumps, conveyors, military equipment, household and commercial appliances, mining equipment, oil & gas field equipment, transformers and HVAC equipment and more.
The plastics & rubber products sector involves facilities that manufacture tires, rubber & plastic hosing, belts, gaskets and seals, rubber goods, plastic film & sheet, laminated plastic products, plastic pipe, bottles, foam products and assorted plastic products.
The printing & publishing sector covers facilities engaged in newspaper publishing and printing, lithographic printing, gravure printing and commercial printing.
The semiconductors & computers sector deals with plants that manufacture computers, printed circuit boards, semiconductors, solar panels and electronic components.
The housing, building products & furniture sector covers facilities that manufacture furniture, asphalt roofing products, kitchen cabinets, millwork, transformers, household appliances, electric lamps and bulbs, switchgear, current-carrying electric devices and storage batteries.
The textiles sector includes both man-made wool, broad-woven fabric mills, carpet & rugs, yarn-spinning mills, non-woven fabric facilities, and tire cord & fabric products.
The fabricated metal products sector consists of facilities that manufacture wire, metal cans, cutlery, hand saws and tools, sheet metal, architectural and ornamental metal work, bolts, nuts & screws, metal stampings, automotive stamping, industrial valves and valve fittings, small arms and ammunition, steel and wire springs, metal foil and leaf, fabricated metal pipe, and general fabricated metal products.
The transportation systems sector includes inland & deepwater ports, airports, light rail, commuter rail and freight rail, including maintenance facilities, rail bridges, substations and railyards associated with mass-transit systems.
Reports on the infrastructure sector deal with the steam, chilled water, electrical distribution and independent power needs of universities, colleges, prisons and hospitals.
The distribution and warehousing sector covers non-refrigerated/frozen warehousing, general goods warehousing, regional distribution/hubs for the United States Postal Service, data centers, as well as air-freight companies such as FedEx, UPS and DHL.