Global Ethylene Platform
Identify, Pursue and Track Opportunities Associated With Maintenance Turnaround Work
Global Ethylene Platform
The Global Ethylene Platform helps identify, pursue, and track opportunities associated with maintenance turnaround work for more than 395 operational ethylene production units. Subscriptions include access to project and plant platform information, unit profiles, and unit turnaround reports that are updated routinely on a strict quality-control schedule. Research for plant details, turnaround schedules and project activities are performed using our direct phone-verification methods to ensure accuracy of all platform information.
About the Industry
For the first time in more than a decade, there are plans to add a major amount of ethylene capacity in the United States. This new capacity is being driven almost entirely by the access to very inexpensive ethane feedstock from shale gas plays in Texas and the northeastern United States. There are multiple projects planned to get under way in the near future that will add capacity via furnace additions, feedstock conversions and other expansions. There are several producers planning or considering entirely new unit additions and grassroot plant construction. The amount of new capacity proposed in the United States over the next five years exceeds 20 billion pounds per year, significantly more than the market can bear. It will be a race to see who can design, justify and approve funding for the new capacity first, as the rest are destined to be canceled. In Europe, ethylene units are mostly processers of naphtha-based feedstock. The aging technology generally requires more frequent turnarounds then newer, world-scale units in other parts of the world. Details for new and expanding ethylene capacity is monitored around the globe for this niche platform.
Plant and Unit Platform
The Ethylene Platform includes information on 315 global ethylene plants, with profiles on 395 production units. Plant information includes: owner and operator names, physical and mailing addresses, phone numbers, plant operations details, and functional management contacts. Unit details include: unit name, owner, operator, capacities, and contacts.
Unit Turnaround Tracking
Subscribers have instant access to all planned and unplanned ethylene unit turnarounds within the platform, as well as access to our research staff for real-time rumor tracking. New turnaround information such as schedule updates and unit status are delivered as they are discovered. Turnaround data includes the scheduled start date and duration, combined with plant and unit details. When maintenance turnarounds occur in this industry, the spending is significant, mainly because most major ethylene plants commonly schedule turnarounds only once every few years. The average duration of a turnaround is 25 days, with an average cost exceeding $15 million or more.
Weekly Ethylene Outlook
Each week Industrial Info's research teams summarize and publish an ethylene outlook report for each global region, providing timely insight market drivers and key market updates driving this very volatile industry. These reports include editorial comments on planned, unplanned and ongoing maintenance events, capacity startups and closures plus much more. This report includes charts and graphs for maintenance event moving averages, daily and weekly offline capacity summaries, a complete listing of all future maintenance events by global region, and new capacity forecasts based on active projects.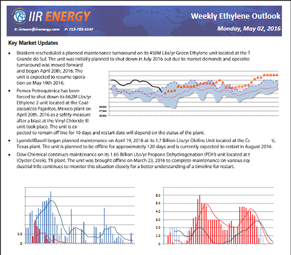 This report is available for the following world regions:
USA & Canada
Latin America
South Asia & Middle East
Europe & Russia
East Asia (China, Japan & Korea)
Potential opportunities during these turnarounds are available for:
Refractory
Mechanical & Electrical Firms
Inspection Services (X-ray and NDE)
Instrument and Control Calibration
Fabrication (Millwright) and Welders
Hydroblasting
Maintenance and Replacements
Pumps, Motors, Valves
Bearings, Seals, Piping
Insulation, Columns, Compressors
Tanks and Vessels
Platform Attributes:
Turnaround coverage on 315 ethylene units at 395 plants
More than 1,550 historical, current, and future outages
More than 1,200 plant and unit contacts
Start and end dates (duration) for each turnaround
Platform updates are provided dynamically as changes are identified, including important new developments and schedule changes
IntraDay Turnaround Alerts are sent immediately via email to ensure timely delivery of schedule changes or unplanned turnaround activity
Analyze future and historic maintenance turnaround schedules
Contact us today for more information on the platform!
View The Industries We Cover